Dragonflame: Speaking with Lawren Leo of New Moon Books
Brick-and-mortar metaphysical shops are currently an endangered species. They are outposts for those who seek magical communities, as well as esoteric books, supplies, and materials. Not least, these stores provide the means for writers of books on the magical arts to meet and interact with their readers. One of these shops is New Moon Books, Crystals, and Candles in Pompano Beach, Florida, which I hope to visit soon. Its proprietor Lawren Leo also publishes an eZine, The Familiar. I recently spoke with Lawren about his new book, Dragonflame (New Page, March 2014)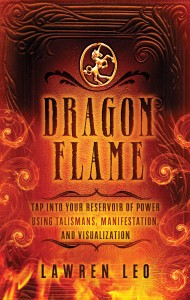 1. Lawren, can you tell us about your book, Dragonflame? How did you come to write Dragonflame?
The crux of Dragonflame came about from an image I saw in a lucid dream. It looked like a unicorn inside a circle, and it was accompanied by a very strong emotion that could best be described as 'Power'. I woke up feeling as if I had found a missing link to inner passion and fulfillment. The missing link was not only for magic, but for me as well. The image became my personal muse.
I remember journaling the experience directly after awakening. I wrote it in profound, lyrical prose, "I saw a unicorn made of three parts extolling the strength and delights of human thought, creation, and the soul." As time went on its meaning became clearer and more pragmatic. It slowly morphed into a dragon and finally into Dragonflame. The concept behind it was so fascinating and life-changing that I couldn't ignore it. I felt it had to be put into writing and shared with others.
Dragonflame presents a unique magical philosophy found behind the image. It boils down to a simple, but potent equation: Goal + Purpose + Sacrifice = Guided Change. This approach, or GPS for short, is part of the magical categories I cover in my book: Alchemy, Tarot, Wicca, High Magick, Creative Visualization, Meditation, and Spellwork. In short, this is a system for achieving spiritual transformation and manifesting one's desires.
Heralding back to the original image of Dragonflame, which emerged from the lucid dream, I felt compelled to create a mold and have it cast in sterling silver (It can be purchased through my website). This talisman is a powerful tool to direct psychic energy, tap into your reservoir of power, and manifest your goals in a 'karmically-correct' fashion. It also has apotropaic properties (for warding off evil, bad luck, negativity). I learned much from the Dragonflame philosophy, such as how to train my thoughts and sharpen my concentration. It immediately became apparent that I needed to share this finding with other people. To ensure the gift of being one's own keeper of the Dragonflame, it must be given away to all those ready to receive it.
2. I love dragons. It was a challenge, when my children were small, to find books for them that featured dragons in a positive light. Could you tell us a little about what dragons mean to you and their significance in the title of your new book?
"It simply isn't an adventure worth telling if there aren't any dragons," one of my favorite quotations by Sarah Breathnach.
I have always seen dragons as fierce and beautiful; the embodiment of adventure and ultimately the personification of power.
The dragon in my book is a creature comprised of three parts: a unicorn's horn, a horse's body, and a lion's tail. Each part is a key concept that when put together manifests your desires. But there is a fourth key, elusive and mysterious. It is symbolic of the most important concept – the flame of the dragon which turns metaphorical lead into pure gold, otherwise known as the Philosopher's Stone. My dragon – Dragonflame – explains this concept and demonstrates how to use it to enrich your life. It is a dragon that turns the present moment into a magical and empowering adventure.
3. Will you be doing any teaching or workshops based on the Dragonflame material?
Yes. Teaching is a passion of mine, alongside writing, of course. I composed the Dragonflame material with workshops in mind. Right now I am offering two: Dragonflame – Concepts for the Beginner; and Dragonflame – How to Open the Mind's Eye.
Both classes include a special Dragonflame candle mixed with essential oils and the Dragonflame talisman cast in sterling silver. I'll be offering these workshops, as well as psychic readings, on my book tour. My website and the Dragonflame FB Page have all this information and more. Check back often at NewMoonBooks.org.
4. Tell us a little about yourself. What is your background?
I like to describe myself as creative and curious. As a child these personality traits led me to the occult and people who practiced the magical arts. I was enthralled from the age of five when I met my first mentor, and have been studying Practical Qabalah, Wicca, High Magick, meditation, and spellwork ever since. Psychic ability has always come naturally to me, as did classical piano and a love for literature.
Over the past thirty years I have been a part of several magical groups, studied the Western Mystery Tradition (especially the Golden Dawn), and have traveled extensively in order to gain esoteric knowledge and to experience life to its fullest. Now, I prefer practicing solitary magic and sharing what I've learned through classes, psychic counsel, and writing.
My philosophy and mission at the moment can be summed up in this sentence: If I inspire one person, then I have done my job.
5. Lawren, you have another publication— could you tell us about The Familiar?
The Familiar is an electronic magazine (eZine for short) that stems from my desire to share magical people, places, and things. What was once taboo, is now informative or interesting. What a perfect time to offer occult (which means 'secret') material in a chic and savvy fashion to a broad audience. It's the 21st-century and people's emotional structures have evolved. Don't you think?
All three issues spotlight crystals and their magical associations, along with short stories, and poetry. The articles focus on diverse topics, ranging from handfasting and how to make saffron infused oil to coming out of the broom closet and various recipes. We also highlight artists and celebrities for every age group, such as glass artists John Littleton and Kate Vogel and Reality TV Star Jonny Drubel from E! Entertainment's '#Rich Kids of Beverly Hills'.
6. Please tell us about your shop, New Moon Books, Crystals, and Candles
I like to call my store (NMB – New Moon Books for short) a psychic salon or metaphysical boutique. The walls are painted bewitching blue. No, really, it's an actual color I had mixed. It creates an 'airy', relaxed ambiance. It's home away from home for me. And everyone that walks in immediately comments on the relaxing feel and energy. From time to time I give psychic readings from my office there as well. There are rows and rows of all kinds of books from comparative religion and Wicca to High Magick and Self-Help. We also have crystals of every size and shape. I tried to fill a small space with the greatest variety of metaphysical products possible. My main goal, however, was to offer books, candles, and crystals from around the world. It took four years, but this is exactly what you'd find.