The Evolution of a Folk Saint: John Paul II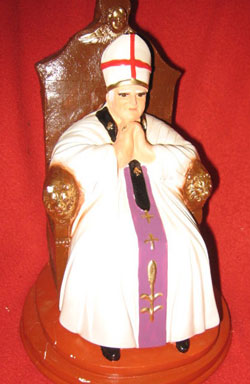 John Paul II (May 18, 1920-April 2, 2005) was pope from 1978 until his death, giving him the second lengthiest reign of any pope. (The record-holder for longest confirmed reign is Pope Pius IX who served from 1846-1878) John Paul does, however, hold the record for canonizing more saints than any other pope. So it was perhaps no surprise that, upon his death, there were calls for his own immediate canonization.
In response, his successor, Pope Benedict XVI waived the standard Vatican requirement of a five-year waiting period, placing John Paul on the fast-track to sainthood. He was beatified on May 1, 2011. Barring complications (and there are also many who are bitterly opposed to his canonization for a number of often contradictory reasons), John Paul II will shortly be recognized as an official Roman Catholic saint. Of course, in the meantime, there is always unofficial saint status or—to put it more politely—emergence as a folk saint.
John Paul II had a deep relationship with Mexico, the site of one of his first papal visits. He was the first pope to visit Mexico. Over the course of his reign, he made five official visits. John Paul II loved Mexico where he was consistently greeted with affection, devotion and fervor. He publicly demonstrated this love: canonizing Juan Diego the shaman who first encountered the Lady of Guadalupe, waiving aside objections to lack of historical documentation about Juan that typically stymies other modern canonizations. In Mexico City, John Paul read from the Bible in Nahuatl, the language of the Aztecs and held Mass incorporating Aztec elements.
No need to assume that his love for Mexico has terminated with his death: Saint John Paul II has recently emerged as a beloved folk saint in Mexico, albeit with a somewhat different persona than one might perhaps anticipate from the official saint. (If you are unfamiliar with the differences between official canonized saints and unofficial folk saints, a clear and detailed explanation is found in the Encyclopedia of Mystics, Saints, and Sages.) Although emerging official hagiographies emphasize John Paul's compassion and miraculous healing powers, his manifestation as a Mexican folk saint is as an all-purpose saint who protects devotees and provides for all their potential needs including quick cash, financial security, and sexual satisfaction as well as healing.
This Saint John Paul II resembles Saint Anthony of Padua who also has both a pious official persona and a witch-doctor alter-ego. Like Saint Anthony, John Paul the Mexican folk saint displays a trickster side. He can reputedly be invoked—or enticed!– to produce any miracle.
Nancy Nenad, brilliant purveyor of folk art and powerful spiritual artifacts, found this eleven-inch high statue of Saint John Paul II in Mexico City's Santeria/Curanderismo market. It may certainly be venerated alone or in any fashion suiting a devotee, but it is intended to be placed on an altar alongside Oshun, the Seven African Powers, or other Santeria, Curanderismo, or Espiritismo saints and spirits.
This particular altar image emphasizes John Paul's role as pope. Note the lion throne, which resembles that of the goddess Kybele. The Basilica of Saint Peter in the Vatican City is built atop the site of Kybele's primary Roman shrine. Images like this increase the number of attributes by which devotees can venerate and recognize John Paul. It supplies him with an animal association—that lion–in the same way that Saint Roch is affiliated with dogs or Gertrude of Nivelles with mice or cats. Time will tell if this transpires.
The evolution of a folk saint is always interesting: Nancy Nenad predicts that, as John Paul's popularity as a folk saint increases, images will emerge that display him in different positions or costumes such as a warrior. In the troubled times of recent years, there has been increasing devotion in Mexico to saints who are aggressively protective such as St. Jude or Santa Muerte. Nancy describes Saint John Paul II as demonstrating a vigilante aspect, something that many devotees may find reassuring.
At the time I wrote this blog post, this particular altar image of John Paul was available for sale at the funkychickeneggranch. Take a look. Even if someone has snatched it up in the meantime, there are sure to be many other interesting spiritual items. You never know what you will find, if you don't look. Proceeds from sales help care and feed the extensive community of rescued animals at the funkychickeneggranch. And if it's specifically images of John Paul that interest you or if you seek other wares from Mexico City's magical and spiritual markets, the funkychickeneggranch may be able to help.