Selling Spirits
As discussed in the Encyclopedia of Spirits, it is not  uncommon for manufacturers to incorporate the sacred into their wares. Products are frequently named after saints or spirits, while mystical images are featured on many labels. This is particularly true of  alcoholic beverages. Although this  may be done for any number of reasons, there are two very typical motivations for this practice:
• A sincere tribute or appeal to the sacred being who is invoked or depicted
• An attempt to generate income by appealing to that sacred being's devotees
Those two motives are not mutually exclusive. I'm constantly on  the look-out for spirit-inspired wares. Although I describe some of them in the Encyclopedia of Spirits, I wasn't able to share images, but, as this blog allows me to do so,  I'll be featuring and discussing some of these products here. For  example, this Pyrat Rum gift box, discovered in a New Jersey Whole Foods in December 2011.
Typically,  spirit-inspired advertising merely references a name or an image, without any additional  information. No attempt is made to educate the non-initiate. It's up to you to recognize the image or name. Pyrat Rum is an exception. Its packaging explicitly invokes and incorporates the East Asian spirit, Hoti.
• An image of Hoti is featured on the bottle's label.
• Attached to each bottle is a  metal medallion displaying Hoti on the front with a little description on the  back, identifying him as "the patron saint and protector of fortune tellers and  bartenders." (And did that little medallion sell me my first bottle of Pyrat Rum? Yes, it absolutely did.)
In  addition to that standard packaging, this particular gift set  includes a box crafted to resemble a book, with a detailed and accurate "history of Hoti" on the back.
By  no means can Hoti (or Hotei, as his name is more usually spelled in English) be considered obscure. Some may know him better as "the laughing Buddha." Hoti is counted among Japan's beloved Seven Lucky Spirits (the Shichi Fukujin) and is the benevolent provider of luck, good fortune, fertility, and wealth. The description of Hoti as a "patron saint" is valid.  As the only member of the Shichi Fukujin to be identified as a historical person, he meets all the criteria of true sainthood: he once lived and now performs miracles. In addition to his patronage of bartenders and  fortune-tellers, Hoti protects children.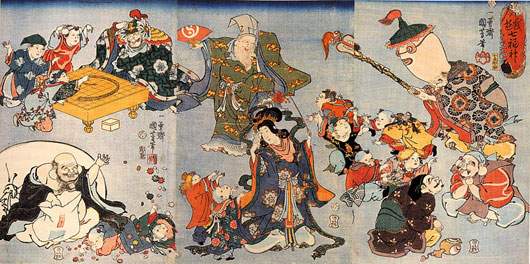 Like Santa Claus, who is also envisioned as a jolly, fat man, Hoti's attribute is a big sack filled with treasure that he eagerly and generously distributes. In addition to  his girth, Hoti is usually portrayed with extremely long earlobes—an indication  of his wealth (his precious earrings are so heavy that they've stretched the lobes), but also a sign that Hoti listens carefully to the appeals of his devotees. His ears are so large, all the better to hear you with.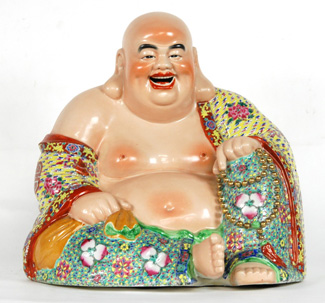 Folk tradition suggests that rubbing the big belly on Hoti's images transmits good fortune. The medallion that accompanies Pyrat Rum enables one to do just that and serves as a little amulet, long after the rum is gone. (And if you wanted to offer Hoti a little something, a shot of rum from a bottle bearing his image might be just the thing. A controversial monk while he was alive, now that he has transcended the mortal plane, he is not likely to reject a tipple.)
• More information about Hotei, the Seven Lucky Spirits, and the Laughing Buddha may be found in the Encyclopedia of Spirits.
• Information about what it really takes to be a saint is found in the Encyclopedia of Mystics, Saints, and Sages.