Saint Martha 14 Day Candles
In fulfillment of a vow, we have available for sale two heavily embellished fourteen day candles for Saint Martha. The image used is the one traditionally found on botanica candles, but we have given Martha the full glamour treatment, as she deserves. Martha is too often portrayed as a drab and modest housekeeper, content to be an eternal caregiver. This is a misreading of her appearance in the New Testament, where she complains to Jesus because she wants her sister Mary's assistance. Martha is a saint for those who find themselves in the Cinderella role, voluntarily or not, as well as for those responsible people who step up to the plate a disproportionate number of times. Certain female saints are, at least sometimes, portrayed in a goddess-like manner, especially Mary, the Blessed Mother, and Mary Magdalen. We have given Martha this star treatment. She is laden with sequins and sports a shimmery golden halo.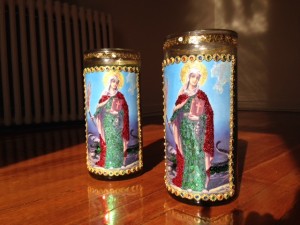 Martha is not her name— it is a title and one indicating immense respect. Her actual name is unknown. "Martha" is typically defined as an Aramaic word meaning "lady" which is true, but it's more than that. Martha is the female counterpart of the masculine title 'Mar' or master. It is a title bestowed on learned Jewish spiritual authorities. Many of the exilarchs— the Davidic leaders of the Diaspora in Babylonia — were addressed as Mar. It is also a title given to Syriac saints and bishops.
Martha is an exceptionally powerful and multi-faceted saint. This candle is suitable for veneration of Martha of Bethany, as well as her alter ego, Martha the Dominator. The image portrays Martha alongside the tarasque, the dragon she tamed in France. It is crucial to point that Martha is a dragon tamer, not a dragon slayer like her compatriot, Saint George. Martha doesn't harm dragons, monsters, or the excessively powerful— she just makes them behave. Thus she is associated with commanding formulas like Essence of Bend Over.
• Martha stays the hands of abusers, whether domestic or professional.
• Martha is invoked against animal attack.
• Martha prevents, banishes, or tames malefactors in general, whether they are human, demonic, or evil spirits.
• Martha is a healer. Her specialties include kidney and gall bladder ailments including stones, but Martha is a true miracle-worker whose assistance and intercession may be requested as needed.
• Martha protects those who serve, whether professionally or within the home. This category include literal servants and housekeepers, but also those in the food service industry from servers to chefs.
• Martha is the special matron of snake charmers and of travelers, especially women traveling alone.
• Marta, the Spanish variant of her name, resembles the Spanish word for death, Muerte, adding to Martha's formidable reputation. Martha is fearless. She is among those saints invoked to mediate with Santa Muerte.
These candles are twice the size of standard 7-day jar candles. They can only be shipped within the United States. They are $50 each, which includes priority shipping with tracking and insurance. PayPal only. If you would like one, please forward a PayPal address to Judika123@aol.com and I will send you an invoice. First come, first served. Happy New Year! Blessings of Saint Martha!
More information about Saint Martha can be found in Encyclopedia of Mystic, Saints and Sages. Spells invoking Saint Martha can be found in Encyclopedia of 5000 Spells.